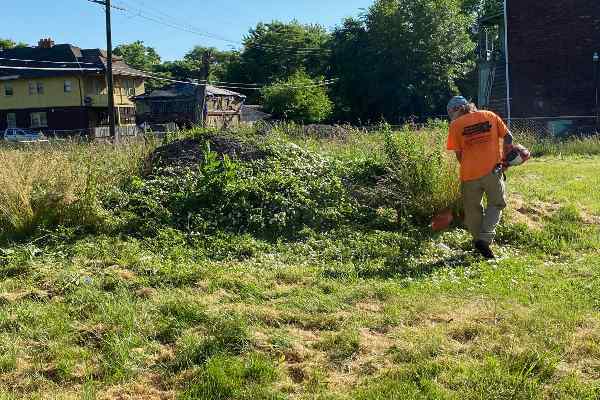 Keeping our local neighborhoods clean can be daunting work, but its everyone's responsibility. Emergency Response Services, Inc. takes this mission to heart and frequently participates in community cleanup events.  
Recently, the City of Flint, Michigan did not have enough money to perform community cleanup services. A lack of funds for curbside maintenance detracted from the character of the houses and those who live in them. Overgrowth made it difficult to walk down the sidewalk due to low-hanging branches and untrimmed sidewalks. Trash littered the streets and many houses sat empty with broken windows, doors, and graffiti.  
Emergency Response Services, Inc. happily offered to lend a hand. With the ERSI team on deck, we were able to clean 15 lots. This consisted of cutting the grass, trimming tree limbs, removing loose trash and litter, and trimming overgrown sidewalks. Additionally, all abandoned residential lots were boarded up to deter potential intruders, vandalism, animals, and the elements. 
Once complete, the Flint neighborhood looked much cleaner and aesthetically appealing. Emergency Response Services, Inc. is always thrilled to participate in efforts that bring beauty and joy to our community. The Flint neighborhood cleanup proved to be successful and ERSI looks forward to future efforts. 
If you live in Flint, Michigan and think your neighborhood could use some love and attention, contact the City of Flint. Request a neighborhood cleanup through the "Love Your Block" initiative. Dumpsters and support crews are usually available.