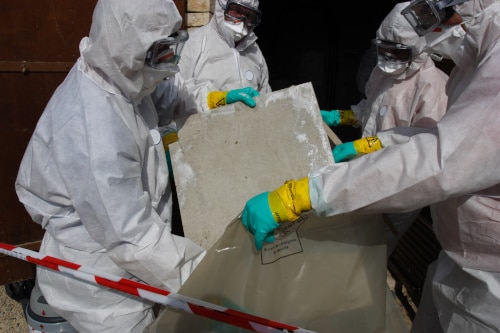 No matter if you are planning a renovation or you want to check your home for improving your family's health, it is a good idea to test your home for asbestos. Up until the 1970s, asbestos was a building material used to stop fires. Unfortunately, asbestos has many negative impacts on people's health. Proper asbestos removal and cleanup from experienced professionals will improve your home's safety. Keep reading to learn more about the reasons why asbestos removal is important for your home.
Asbestos is in Many Places
One of the continuing scary aspects of asbestos is how prevalent it is. A study suggests that up to 30 million buildings have a large amount of asbestos. If your property may have asbestos contamination, make sure to get it checked out as soon as you can.
Asbestos Hurts You
Asbestos is terrible for your health. The fibers get into the air where people and pets can breathe them. Breathing asbestos fibers can cause fatal issues, including asbestosis, mesothelioma, and lung cancer. The worst part of these conditions is that some don't show up right away, but linger in your system and then present months, sometimes years later. Asbestos kills around 5000 workers working in old buildings. When experienced contractors work in homes and buildings to remediate asbestos, they can minimize the problems to workers and the homeowners.
Required Asbestos Removal
The law requires the removal of asbestos in some situations. Renovating older buildings or tearing down a building usually requires an asbestos inspection. Depending on how the inspection goes, there may be additional steps to the building or demolition process. In this case, you or your contractor will need to clean the contaminated area or areas first, then go back to your original project.
Call in the Pros for Your Asbestos Cleanup
Partnering with a professional building crew will give you the best chances of keeping your family and guests safe from asbestos poisoning at your home. The team at Emergency Response Services has experience handling many dangerous materials, including asbestos, and can solve your problem.
Give us a call today at (877) 562-3663 to schedule an inspection for your building.
A flood is a temporary overflow of water that generally covers dry land. These disastrous events are the result of either natural or human causes. Heavy rainfall, clogged drains, hurricanes, broken dams, urbanization, burst pipes and supply lines, and other sources frequently cause severe flooding. Water has devastating effects on your property, and nearly always requires professional assistance from a certified flood damage cleanup and restoration team.   Fortunately, when you find yourself in these situations, ERSI can help. As an experienced disaster restoration company, we have seen it all. That's why we are sharing helpful information about flooding and what
Read More »
1) Schedule an Inspection
Emergency Response Services, Inc. is comprised of an elite world-class team with proven leadership providing services in the insurance restoration industry.
2) Get a Free Estimate
Our team uses industry-standard estimating software to provide you and your insurance company with a detailed and accurate estimate for restoring your property.
3) Meet Your Project Manager
After the estimate process, you will be assigned a personal Project Manager to oversee your restoration project and make sure you are 100% satisfied from start to finish.
* Indicates required questions